SKULLFUKKED BY GHOULS Magazine Issue #4
$

14.00 Sold Out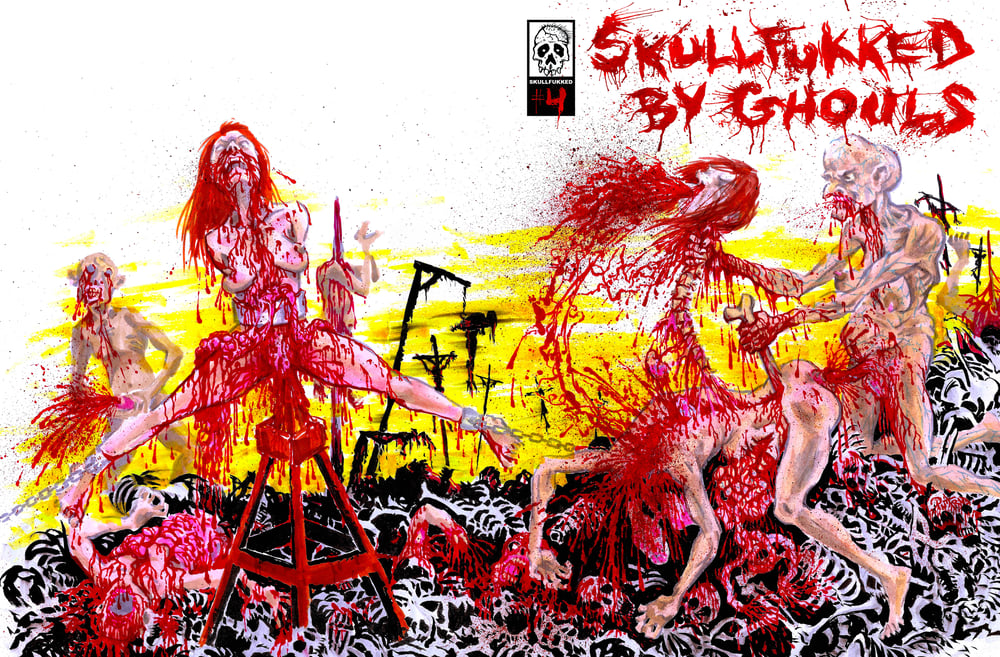 PLEASE NOTE- ORDERS WILL BE SHIPPED ON MONDAYS ONLY
Issue number 4 - BLOOD Issue of the monster mag from hell. 8.5" X 11" bound, printed on thick, 100lb gloss paper stock in EYE BLASTING full color on every page w/a a ton of extra goodies that'll make yer ugly parts tingle
Featuring 52 of your favorite artist creeps - Putrid Matt @putridgoreart, Don Picton @friendprices, Kim Thompson @kim_a_tron @victorvirmis, Elena Gunderson @elenathunderson, Mike Diana @boiledmikediana, Tom J. @birdsnatch, Taggy G @tagstagg, Scar Studios @scarstudios, Tom Goulter @wordsandemptyrooms, Matt M. @brainmelter_. Karl Dahmer @dahmerart, Adrien B. @dwarfa_bloody_artwork, @hellothemushroom, Blake Hallinen @nightmerrily, Lavina Arano @lil_l_apparel, JJ Tebrake @rabifurr, Caroline Makin @deathbycrabs, Mikey BossDog @bossdog, Jessie Ngaio @jngaio, Julia Croes @julcroes, Laura Harte @laurasweetheart, Nico @nico_tdm, Jeff DiMaggio @grodyghost, Jose Romero @joeravagerwolfman, Christine Lu @eyetomic_art, Alicia bravo @edukatedlatina, Aaron Lewin @berzerkaroth, @simdagger, Kayla Nakai @color_andillusion, Brandon Jenkins @bkjenkins, James Quigley @quigleysmagicshop, Emma Zanelli @kissthedevil, @hyenahell, Jon H. @dangerstranger, Erin O'Kelly @hag_attack, Seth Baldwin @shashabeef, Carl Thomas @ct_artworks_, Andre trindade @cvspe, Euan Boyd @euan_boyd_art, Matt Stikker @bargainbinblasphemy, Jaime Trujillo @jaime.trujillo, Trevor Henderson @trevorhenderson, Glenn Stevenson @glenndigestion, Pascal little @little_lamb, Monica Sandoval @midnightqveen
Extras for issue #4 include:
1 - SFBG Approved BLOOD BAG
1 - SFBG Handmade Prison Shiv
1 - Package of BLOOD CAPSULES
1 - Handmade METAL Skull Medallion (made by @skullsoup)
**please note- ONLY THE FIRST 50 COPIES SOLD will receive the medallion
Issue #4 is the sickest, grossest issue of SFBG so far, with some crazy, blood-soaked extras. DO NOT sleep on ordering one of these as they will sell out fast.
We here at the SKULLFUKKED EMPIRE headquarters have come up with a new catchphrase for SFBG ......
"BUMMING OUT THE SQUARES SINCE 2016"
Share